Exactly two things in this photo were mine.  (If you guessed one of them was the chocolate..Taza Toffee Almond & Sea Salt…aka arguably the most important thing in the photo…you'd be correct.) (The second was the vastly less exciting tan mat the almonds are resting on.)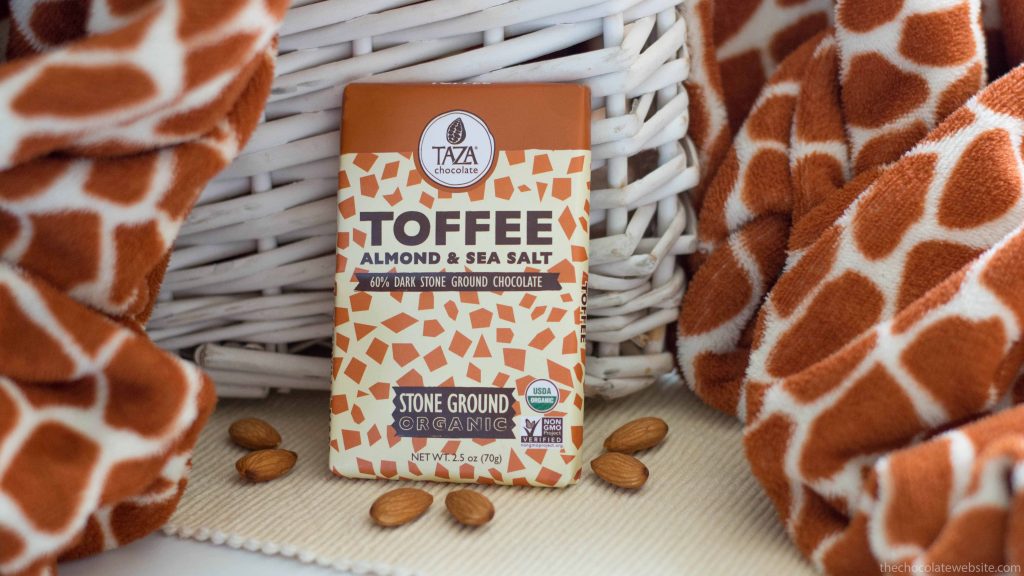 So that means I borrowed (with permission):
The blanket off somebody's bed (Not mine.  I'm more of a flower person than a giraffe print person.  I know I'm shocking absolutely no one by saying that.)
The basket in my neighbor's closet
The almonds in the refrigerator (actually I can't recall if I asked permission before borrowing those…)
This photo is one of the best examples I have of being creative and finding things around you to use for photography.  With a little imagination, 'something old and something new and something borrowed and something spotted like a giraffe' (yes I kind of re-worked the old saying) will work just fine.
I can think of at least a dozen times I've come up with shots that didn't include any of the flowers or fabric I've specifically purchased for my chocolate photography hobby and instead used things already lying around (or growing around), and therefore the accessories ended up being free.
A partial list of items found around the house (both inside and outside) that I have used as photography props are as follows:
(I don't recommend the cactus unless you're far more careful at handling them than I am):
Sprigs of flowering bushes and one of my shirts
Golden foil (chocolate wrappers!) formed into little balls + leaves + another one of my shirts
Baby cacti, burrs, & tree branches
Rope and rocks
Rings and scarves
Coffee beans and coffee mug  (I believe I may have mentioned my reusable coffee beans on multiple occasions.  They're real troupers; they've posed with a myriad of coffee chocolates and survived at least one glitter shower.)
My butterfly wallet and some ribbon
Buttons, spools of thread, and a gift bag
A palm frond hat & zig zag brown paper packing material
Colored pencils and bougainvilleas
A napkin holder and a spare piece of fabric
Playing cards and glitter foam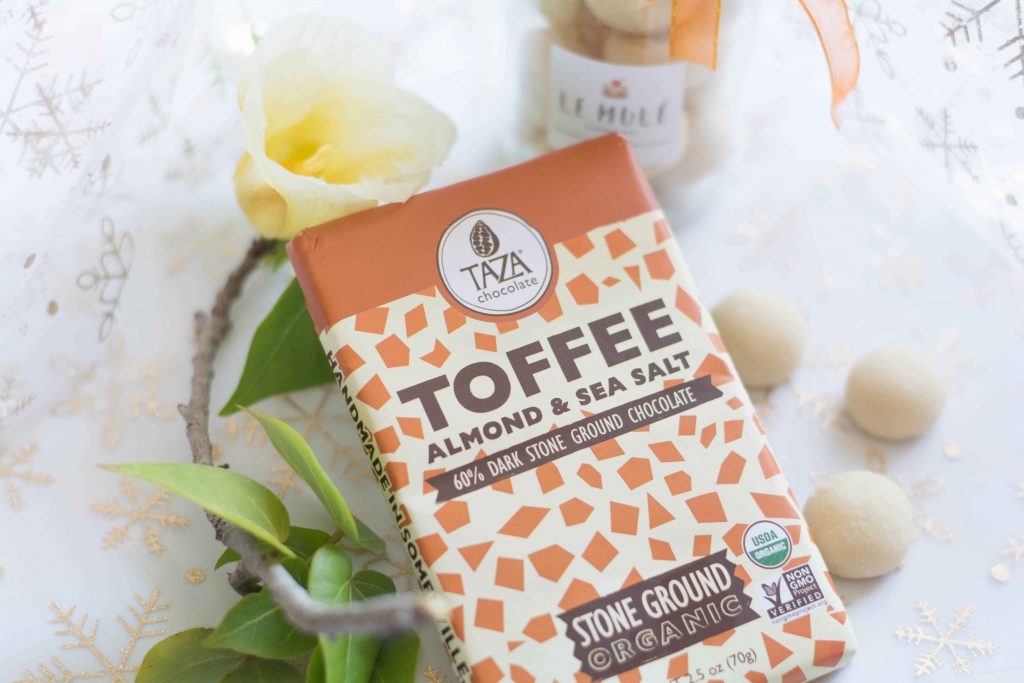 Oh yes. And tiny little cookies.
In case you're here for the chocolate instead of the photography prop suggestions:
Taza is a stone-ground bean-to-bar chocolate made in Massachusetts.   I'm more familiar with their round discs (my favorite is cinnamon) but the toffee is only available as a rectangle and I'm not picky as to what shape my chocolate is in.  🙂
Stone-ground (read: gritty) chocolate makes good "chomping" bars (something to chow down on rather than melt in your mouth and savor slowly).  I enjoyed the mix of chocolate and nuts and toffee; I think this chocolate would be fantastic coarsely chopped and generously added to sugar cookie dough.