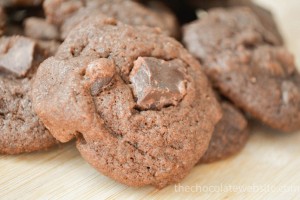 This Chocolate Chocolate Chip Cookies recipe is also available in the following formats:

Ingredients:
1 cup butter
1 ½ cups white sugar
2 eggs
2 teaspoons vanilla
2 cups flour
2/3 cup unsweetened cocoa powder
¾ teaspoon baking soda
¼ teaspoon salt
1 cup chocolate chips (or chocolate chunks)
In one bowl, combine the butter, sugar, eggs, & vanilla until fluffy.
In another bowl, combine the flour, soda, & salt.
Stir the dry ingredients into the wet ingredients.
Mix in the chocolate.
Spoon heaping tablespoons onto non-greased cookie sheets.
Bake at 375 degrees F. for 8-10 minutes/until set.
Notes for reference:
I never use chocolate chips.  I buy chocolate bars and chop them into chunks.   So technically these should be called chocolate chocolate chunk cookies…
Believe it or not, I only know how many cookies this recipe makes after doubling the recipe, letting 3-4 family members sample the dough, and then swatting everyone's hands away from the cooling cookies long enough to count them.  (That would be approximately 15 1/2 dozen.)
These cookies are seriously addictive.  Chocolate lovers can't get enough of them.  Even people who aren't crazy about dessert can't get enough of them.