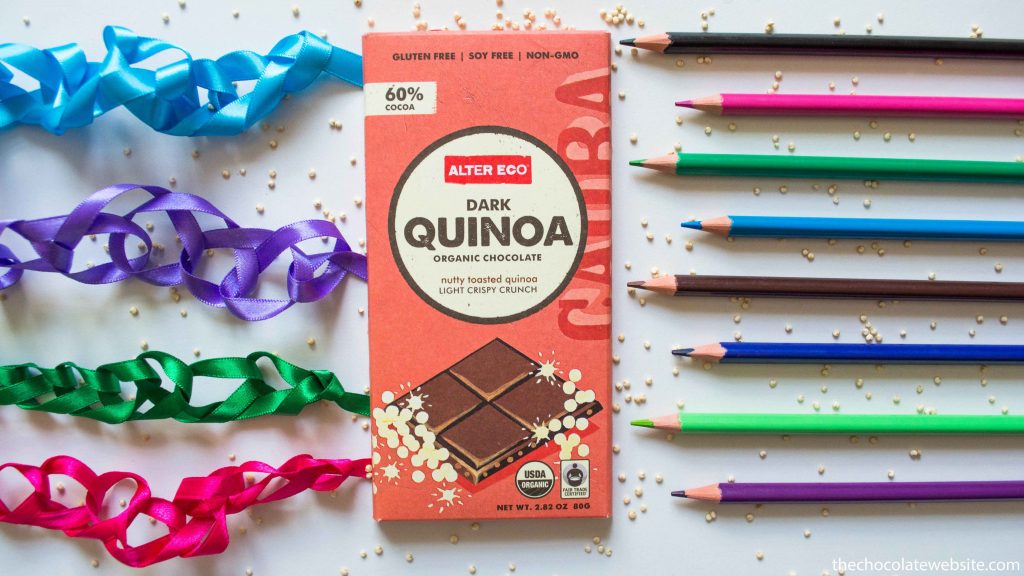 What's gluten free, fair trade, organic, and very tasty? Alter Eco Quinoa Dark Chocolate.
Am I the only one that has pronounced quinoa wrong all their life?  I grew up thinking it was "quinn-NO-ah".  Then recently I started hearing about this new gluten-free super-seed food called "keen-wah" and, lo and behold, it turns out they're the same thing.
Most people associate quinoa with "health foods" and therefore may automatically assume it doesn't taste very good, but there's good news.    Quinoa is not one of those "pinch-your-nose-and-swallow-fast" foods.   I find it easily adaptable to many dishes, and toasted quinoa adds a perfect crunch to this 60% dark chocolate.
I absconded with a few spoonfuls of quinoa from the fridge for the purpose of taking this photograph.  A month later, I was still finding quinoa in my room.  (My sister would say that that would tell you how well I do…or do not…clean my room, but I am telling you, a few pieces of that quinoa had terrific hiding skills.  Because I DID sweep.  I'm almost positive every time I swept I could hear the quinoa running behind the furniture giggling at their skill at avoiding me.)
Me? Have a vivid imagination?  What gives you that idea?
FiSave
Save