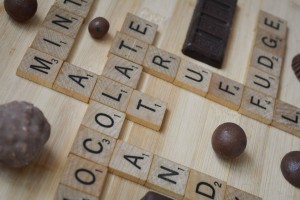 Extremely short version: The Chocolate Website hereby promises not to do anything you wouldn't approve of with your email address and hereby does not promise not to tempt you with all the luscious chocolates available. The end.
Oh. Were you expecting a longer, more conventional policy? That can be arranged.
The longer version: This policy applies to The Chocolate Website (http://thechocolatewebsite.com). It does not apply to external websites (materials that the Chocolate Website links to). This policy may be updated at any time. (Last update: March 25th, 2016)
Affiliate Disclaimer: The Chocolate Website is a participant in the Amazon Services LLC Associates Program, an affiliate advertising program designed to provide a means for sites to earn advertising fees by advertising and linking to amazon.com.  As an Amazon Associate I earn from qualifying purchases.
Information Collected by The Chocolate Website: General statistics are collected from every visitor, including (but not limited to): IP addresses, referrers, browser types, screen sizes, etc. This is normal. Practically every site online collects this info. None of the statistics collected by The Chocolate Website are shared with anybody (other site visitors, third parties, etc.) I promise to not even share it all with my sister (and we share practically everything).
Cookies: (This is in reference to the non-edible computer cookies, not the melt-in-your-mouth chocolate chip cookies most of our grandmothers used to make.) Cookies are small text files that are stored on your computer's hard drive by the websites you visit, to enable the site to 'remember' who you are. Cookies allow web applications to tailor their operations by gathering and remembering information you have provided to that particular website on past visits. A cookie in no way gives The Chocolate Website, or any other site, access to your computer or to any information about you (other than the data you choose to share). You can choose to accept or decline cookies. Most web browsers automatically accept cookies, but your browser settings can be modified to decline cookies if you prefer.
I've listed all that to say this: The Chocolate Website may use cookies for various standard tasks (such as remembering which links you have clicked on in the past), but The Chocolate Website does not obtain private information via cookies.   The Chocolate Website does link to sites that use cookies for a variety of purposes; please visit the privacy policies or cookie policies on those sites for details.   For more information regarding cookies, visit: http://www.aboutcookies.org/
Email Addresses: I obtain your email address only if you provide it by signing up for The Chocolate Website newsletter or by contacting me. Your email address will not be used for any other purpose than for me to send you the newsletter or reply to your email. (Your email address will not be shared with any third parties without your permission, even if they offer me a lifetime supply of chocolate.)
External Links: The Chocolate Website is not responsible for the content of the websites that it links to. The Chocolate Website attempts only to link to family-friendly content.
Mission Statement: The Chocolate Website is my place to share chocolate photography, tasting reviews, chocolate related stories, chocolate terms & trivia, etc.  Come to TCW for new photos, shout-outs to interesting chocolate-related products, reviews on chocolates, mouth-watering recipes, and more.
Feel free to contact me with any questions or concerns.