Salazon Caramel Sea Salt Chocolate
Confession time: I just ate the Equator.
Either that, or part of an ocean.  I didn't pay too much attention to whether it was the Atlantic or the Pacific; my eyes had been a little glazed over ever since opening the wrapper of my first bar of Salazon chocolate.   No boring square shapes for them!  Instead, I discovered the world, intricately molded in chocolate.
Salazon Caramel Sea Salt Chocolate, unwrapped: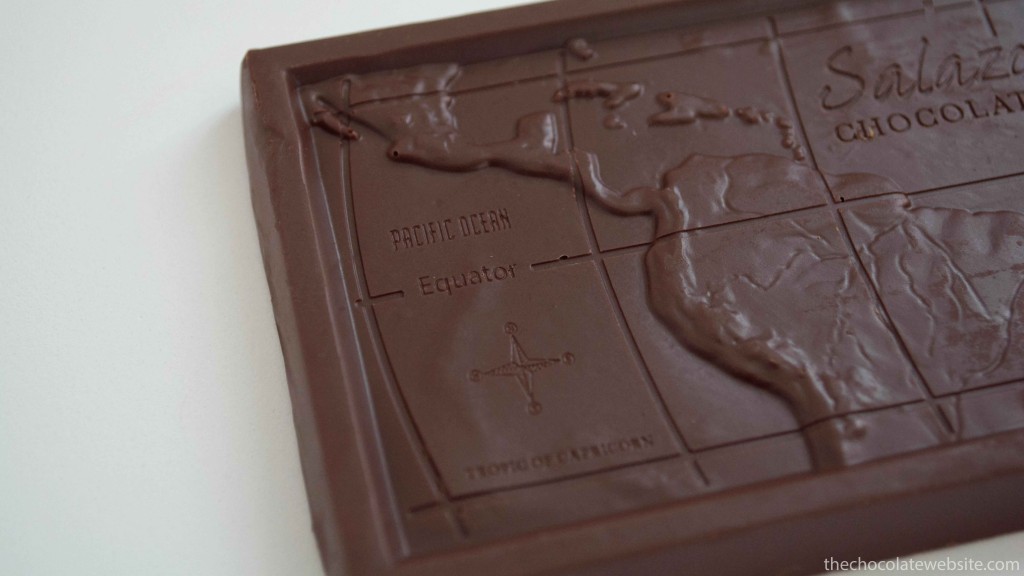 It's always a treat to open up a bar of chocolate and find such an exquisite design.
Salazon Chocolate offers organic, single-origin, salted dark chocolate.  Each bar is hand-sprinkled with natural sea-salt.  I opted for caramel, as a spoonful of caramel helps the sea-salt go down, in the most delightful…. Oh.  Wait.  That isn't exactly how Mary Poppins put it.   (Let's just put it this way: I wanted to try Salazon, but am wary of salt in my chocolate.  It only tempts my taste buds if done correctly.)
For the record, Salazon does it correctly.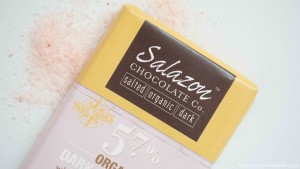 While it was easy to pick out the flavor of salt in this sweet-but-not-too-sweet 57% dark chocolate with caramel bar, the salt flavor was not overpowering (thankfully).   The flavor of the caramel inside was mostly hidden by the salted chocolate surrounding it, but occasionally I was able to detect a hint of the rich, buttery taste.
For anyone who loves chocolate with salt, I believe Salazon Caramel would be right up their alley.   For anyone who doesn't think they'd like chocolate with salt but would like to give it a try, this bar is milder (read: better!) than some other sea-salt chocolates I have tried.
A parting shot…