Customized Chocolate Bars – Up to 27 Billion Combinations
Awhile back, I stumbled onto a site called Chocri.  Simply put, they make customized chocolate bars from Belgian chocolate.
More elaborately, there should be a fanfare and shower of confetti when someone discovers Chocri or a similar company for the first time.  (Yes, I am known for being a little dramatic.)  I lost all track of time, totally in awe of my new discovery.   Never heard of Chocri?  First, on their website, choose the type of chocolate you prefer (dark, milk, white, or milk-and-white).  Then comes the "hard" part: selecting up to five flavors (from an amazing selection of fruits, nuts, spices, candies, & other toppings) to customize your chocolate bar.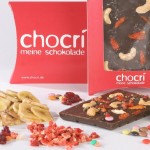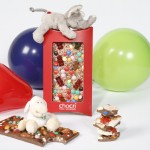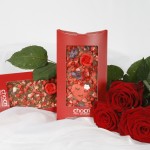 Customized Chocolate Bars – Flavor Combination Examples:
Milk Chocolate with Pineapple Bits, Pine Nuts, Chocolate Sizzle Rocks, & Real Gold Flakes
Milk Chocolate with Raspberry Bits, Macadamia Nuts, Marzipan Balls, & Cocoa Nibs
Dark Chocolate with Mocha Beans, Cappuccino Chocolate Drops, Ground Coffee, & Mini Heart Decorations
Dark Chocolate with Apple Bits, Cinnamon, Cinnamon Cornflakes, and Organic Salt Pretzels
White Chocolate with Blueberry Yogurt Crisp and Blueberries
You can order just one bar, but the fun doesn't have to stop there.  If you order five bars, the sixth is free.  This chocolate is being made just for you, so it takes a little longer to arrive than chocolate that is already on the shelf.
---
Just this past week or two, I discovered a similar company that also makes customized chocolate bars, Chocomize.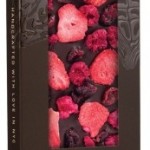 I had just as much fun browsing the choices on Chocomize.  Here are the selections I came up with there:
Milk Chocolate with Pecan Halves, Pumpkin Spice, Mini Marshmallows, and Graham Crackers
Dark Chocolate with Cookie Dough, Vanilla Granola, & Ground Coffee
White Chocolate With Organic Coconut Flakes, Diced Lemon Peel, & Crystallized Violet Petals
Both companies offer gift certificates.  To me, a create-my-own-chocolate-bar gift certificate would be a perfect gift, and I'm guessing all chocolate lovers would agree!

Ps. I am not affiliated with either company, nor have I had a chance to order from them.  Shipping chocolate internationally is a melty business.  But that isn't keeping me from plotting…