Are you wondering how chocolate can be terrifying?  Me too.  I realize chocolate can be borderline terrifying if there are too many to choose from.  And I've heard chocolate can be a little terrifying to some waistlines.
(This particular chocolate doesn't look scary to me.)
But recently, at first glance, there have been more and more mentions of the "terror" of chocolate.  My immediate thought is: How can chocolate freak people out? Only when I backtrack and read the word again do I keep realizing – laughing at myself – that the word is actually terroir, "how a particular region's climate, soils, and aspect (terrain) affect the taste of"….and here is where the dictionary usually says wine.  
The term can also be applied to chocolate.
It is becoming a well-known fact that high quality chocolates, despite being regularly made from the same type of cacao beans, the same recipe, and the same manufacturing process, can differ in taste from one batch to another.   It all depends on the growing conditions of the cacao beans, such as what the weather was like.
In other words, the fact that Venezuela got a lot less rain in 2015 than it did in 2014 could very well end up affecting the taste of your favorite chocolate bar.
Hypothetically, anybody with a lot of practice taste-testing can sample a single-origin chocolate and correctly guess where the beans were harvested based on the flavor of the chocolate, as the terroir of many cacao-growing locations is quite distinctive.
Chocolate from Madagascar is known to be spicy.  (Which makes perfect sense; Madagascar is known for growing spices such as cinnamon and vanilla right alongside its cacao.)  Many Central & South American cacao beans have a fruity flavor, while many from Venezuela have a distinctly nutty flavor.
Which brings me to this fun taste wheel: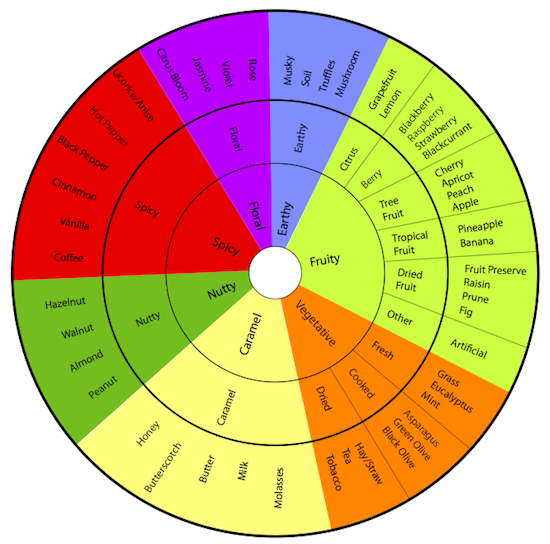 Photo Credit: C-Spot.com
Have you ever had a hard time putting the exact flavor or "note" of the chocolate* you are eating into words?  Struggle no more!  This handy info graphic takes the basic flavors of chocolate and expands upon them to help you narrow down any elusive tastes.
*By chocolate, I don't mean chocolate flavored candy that is comprised of roughly 12% chocolate liquor and 88% sugar, milk, flavorings/emulsifiers, and other ingredients.  Although I think we've all eaten (and enjoyed!) such candy, the chocolate I am referring to are higher cacao percentages often made by bean-to-bar artisan companies instead of multi-million-dollar corporations.   Artisan chocolates are becoming more popular due to their ingredients (or sometimes the lack of ingredients!), presentation, and…last but not least…incredible taste.