Divine Mango and Coconut Chocolate
All it takes to immediately transport you to the tropics (that is, if you aren't already there!) is one bite of Divine Mango and Coconut Chocolate.  It's loaded with tropical fruit.
This bar marked two firsts for me:  My first chocolate with mango, and my first taste of Divine.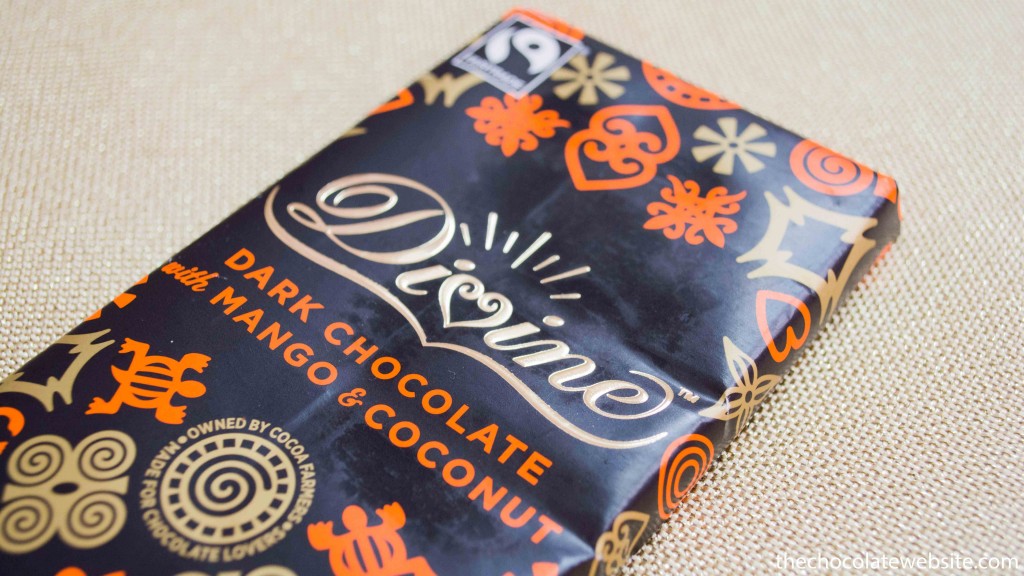 Why did I bypass more conventional flavor choices and choose mango?
Not every chocolate company offers a chocolate with mango, and the goal is to try as many new chocolates as possible.  Besides, I like tropical fruit.  Admittedly mango isn't my first choice, but usually most everything is palatable when covered in chocolate.
It was rather entertaining to introduce this chocolate to my friends.   It would go something like this, "This one is El Rey dark chocolate and this one is the same thing in milk chocolate, and this one's mango and it's Divine.  I mean, the brand is Divine..and it's really good, too!
Divine Mango and Coconut Chocolate is chockfull of mango; there's a nice chunk in nearly every bite.  The coconut taste was very subtle, hardly even there.  The tangy, chewy mango pieces do overpower the coconut.
It looks like the mold designers at Divine had a little fun when deciding what their chocolate should look like: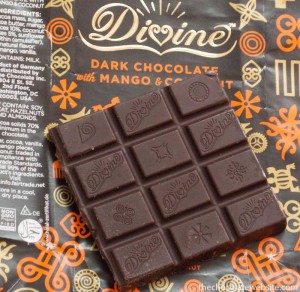 Fun fact: Divine is the only fair trade chocolate company which is 45% owned by the farmers.
If mango really isn't your thing, not to worry.  Divine offers many other flavors.  Like milk chocolate.  And dark chocolate.  Not to mention white chocolate, chocolate with raspberries, mint…you get the idea.
Until next time…