Saturday, it occurred to me that the Whatever Floats Your Boat Brownies recipe still doesn't include a photo for the lemon frosting version.   Something really had to be done to remedy that.
Additionally, Mother's Day was less than twenty-four hours away, and baking something (especially something so melt-in-your-melt-delicious) might score some brownie points.  (Pun intended.)
Excuses excuses.  In reality, I was craving brownies.  It's hard not to crave these brownies.  These brownies are amazing.  And since I did have a few excuses reasons to make them, make them I did: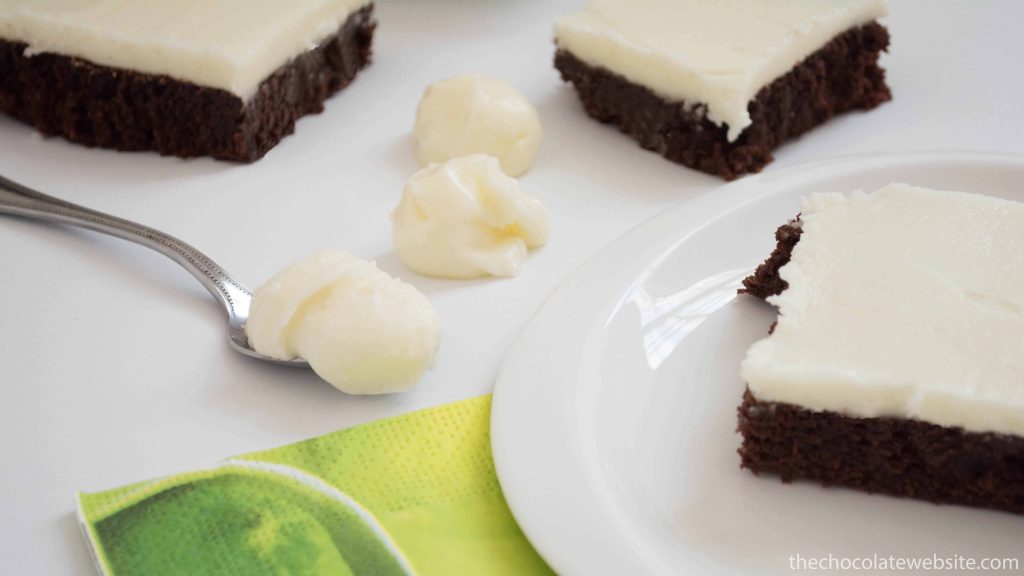 The brownies themselves are incredibly simple.  (See the recipe for details.)  Tip: Set your alarm!  The recipe says to bake them for exactly 30 minutes.  Wait 35 minutes and I'll be hearing all about brownies that were as dry as four-day-old French bread (more or less).  You want these brownies to be ooey-gooey, so make sure to pull them out at the 30 minute mark.
The lemon frosting is a little trickier.  Not because of the frosting itself, but because it was lemon. We use NOW lemon oil, and if I even so much as touch the bottle, my hands will almost immediately develop tiny, incredibly itchy blisters that will… nevermind.  TMI.  Suffice it to say, I snagged the first available volunteer to help with the lemon oil.
The volunteer was instructed to put in exactly 20 (or 21 – I can't remember exactly) drops.  He complied beautifully.  After a quick taste test, I requested 4 more drops, just to make sure the lemon flavor came through loud and clear.  In went six or seven drops, with a cheerful grin.   (Why is it my volunteers never follow directions very well?)  If that wasn't enough, the same volunteer had the audacity to pronounce that the frosting contained "too much lemon".  Whose fault was that, exactly?!  Another grin assured me that I was being teased.
After that, you know the drill: Cool the brownies, slather on the frosting, cut and serve.   (I've found it is helpful to chill the finished, frosted brownies for awhile before portioning them off, as they stay together better that way.)
Whatever Floats Your Boat Brownies are amazing with chocolate frosting.  I've already had a request for orange frosting.  And maple.  (The maple was a request from me…to me.)
My apologies if you're craving brownies now.
#notreally #sorrynotsorry #browniesarebest #justgomakesomealready