Endangered Species Chocolate
Last Friday (May 20th) was Endangered Species Day.  To some, it meant a welcome spotlight on the efforts of organizations and individuals who work tirelessly to save endangered animals.  To others, Endangered Species Day was a reminder to eat more chocolate.  You see, there's one chocolate company so passionate about
helping out that it is reflected in the name of their company, Endangered Species Chocolate.  10% of their net profits are donated to non-profit partners that protect and preserve wildlife.
(Eating a chocolate bar is definitely more my cup of tea than standing outside out on a street corner waving a sign "Save The Whales!" I'm actually shy.  Believe it or not.)
I've tasted quite a few flavors of Endangered Species chocolate over the years; the latest was Lemon Poppyseed.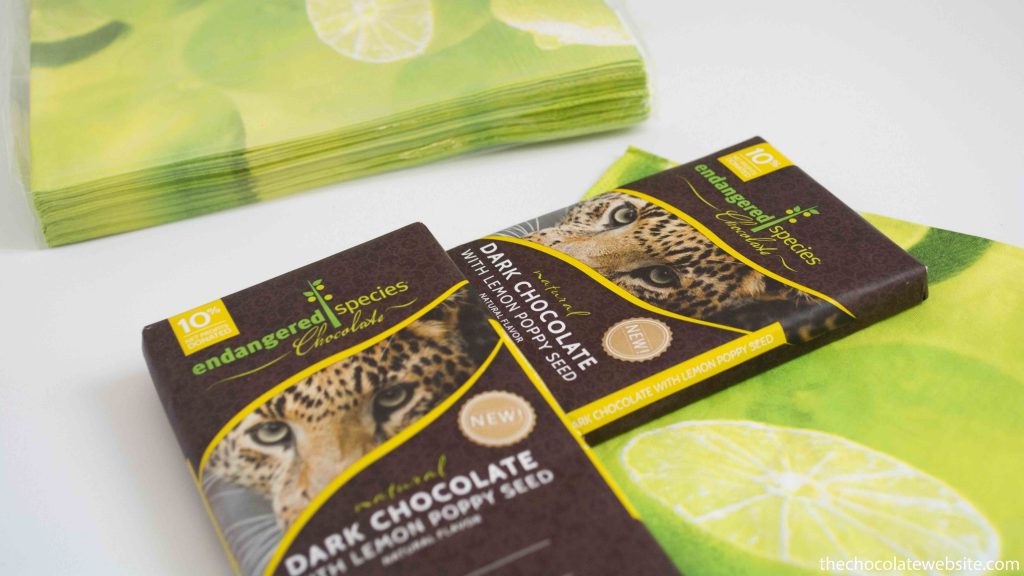 (Choosing which Endangered Species flavor to try next always takes me forever. But with flavors like Dark Chocolate with Cherries, Expresso, and Cranberries & Almonds, you can hardly blame me. Or if I'm picking based on the animal pictures on the chocolate wrapper, it is equally hard to choose between sea turtles and sea otters.
Then again, this comes from someone who hasn't quite decided on her favorite animal. (It's dogs.  No. Wait.  Dolphins. Then again, hedgehogs are insanely cute. I also think tapirs are adorable.)  What's that you say?  This isn't "The Animal Website"?  You came here for chocolate? Ok, ok…
Unwrapping an Endangered Species chocolate bar is always a learning experience.  The inside of the wrapper, in addition to containing a few additional facts about Endangered Species chocolate, also contains a photo and a few tidbits of the animal being featured on the front.  (Lemon poppyseed features leopards.)
There's a picture floating around Instagram citing citrus at the top of the list of inclusions that ruin chocolate.
(Mint was next on the list!)  Don't ask me who says so; I didn't look and don't even want to know.  Lemon and chocolate – in my humble opinion – are amazing together.  (So are chocolate and mint.)  This particular lemon chocolate has a very subtle lemon flavor (I wouldn't care if it was not-so-subtle!) Poppyseeds, as a general rule,
are practically microscopic and therefore provide only a tiniest bit of a crunch.  It was entertaining to melt down a few squares to find the seeds; I haven't had so much fun with poppyseeds since the resident soapmaker included them in a batch of ginger bars.  (Only then, they weren't for eating.)  (Even though the soap smelled good enough to eat!)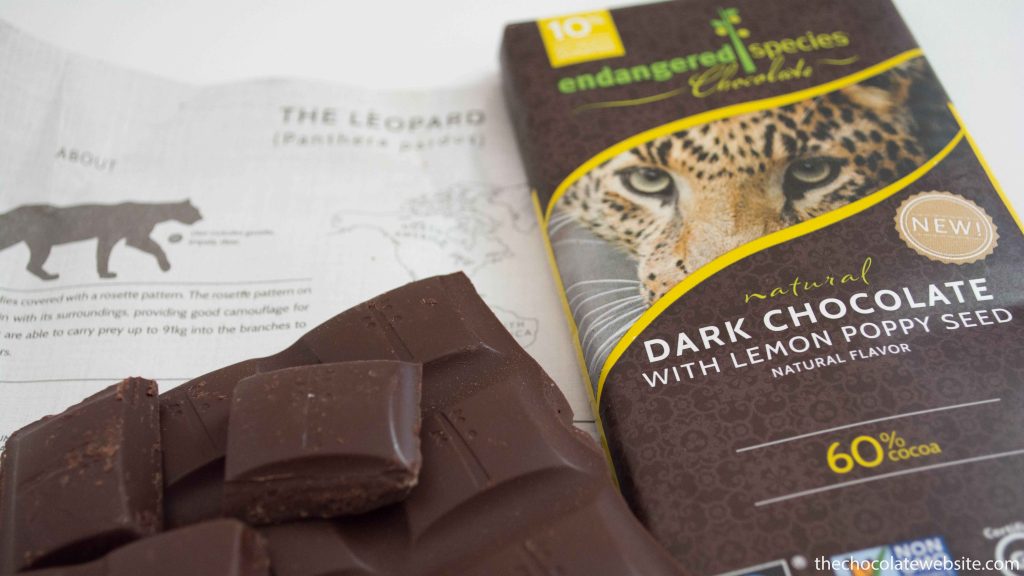 Ever tried Endangered Species Chocolate?  What's your favorite animal flavor?