Mantuano Chocolate: Variety, Venezuela Style
There are a startling amount of chocolate brands that are either:
Hard or impossible to find outside of their country of origin
or
Not available in many flavors worldwide.
There is, of course, a solution (of sorts). If the chocolate can't come to you, why not come to it?
If you happen to be planning a trip to Venezuela, you may want to do some research regarding which chocolates to sample during your visit. (You've probably heard; Venezuelan chocolate is rather famous.  Case in point: Two of the top eight chocolate bars mentioned in recent New York Time article were from….you guessed it!)  I'll cheat and help you with your homework.  One of the many brands you should be on the lookout for is Mantuano Chocolate.
Those of us who have had the pleasure of sampling Mantuano (in my case, more times that I care to count) could technically keep our lips sealed.    However, that would be a "the less you buy, the more there is for me" mentality, and that is not my modus operandi.  I believe good things ought to be shared.

I've never met a Mantuano bar I didn't like.   Disclaimers:
I haven't tried them all.   Mantuano offers a very wide selection.   Flavors I have tried include lemon, orange, ginger, sea salt, almond, coffee, tea, granola, and 70% dark.
There were a few flavors I enjoyed more than others (though all of them were tasty).  The flavors that stand out most in my mind are coffee, ginger, and granola.
There is one very special Mantuano chocolate that I will be trying in the near future with a good deal of trepidation.  It features…how do I put this without giving too much away…something very special on it.    Two bars are in my chocolate drawer now.  (One bar wasn't enough for all the friends who are crazy enough to try it with me.) Stay tuned for the recap of tasting chocolate studded with something tropical that is not a plant.  That is all I will divulge for now.
Some Mantuano flavors are dark chocolate (60%-70%), while others are milk chocolate (40%-50% if memory serves me correctly).  The chocolate itself is smooth and creamy with an exquisite flavor.
The bars are easy to spot at a distance, thanks to their colorful and unique packaging.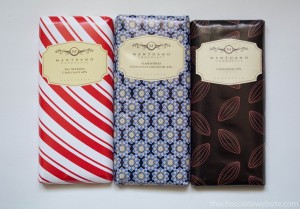 Mantuano 60% Dark Chocolate With Sea Salt
While I can't guarantee where (or if) you will find any during your visit, I do highly recommend Manuanto chocolate if you happen to run across it…
Visit Mantuano Online:
Website: Mantuano Chocolate
Twitter: @mantuanochoco
(Both are in Spanish.)