Rawmio Review: Vegan Organic Chocolate
Very recently, there was a milestone birthday at my house (I turned the big nottelling-0 earlier this month), during which I celebrated by….not having any chocolate.
That is correct.   This chocolate lover did not have any chocolate whatsoever on her birthday.  This was for two reasons.
I'd had more than my fair share of chocolate over the past month or two. (The chocolate you see on this site? I had a part in eating a lot of it.  And you haven't seen all the outtakes, or the photos that haven't been published yet!)
A little bird told me that some of my gifts would be either partially or entirely composed of chocolate.
The little bird was correct.   My parents decided to deviate from conventional brands and flavors; one of their gifts was a stone-ground, hand-crafted, raw, vegan chocolate giftset by Rawmio, with intriguing flavors such as sprouted almonds and hemp!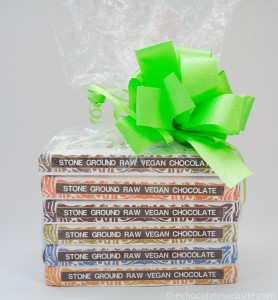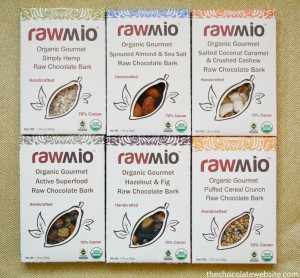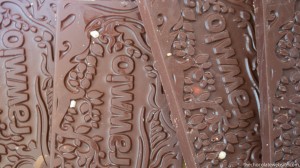 They're gorgeous chocolates that were a lot of fun to photograph.   We have now sampled all of them.   (Correction: We have now totally eaten all of them.)   The following flavors are ranked from my least favorite to my favorite: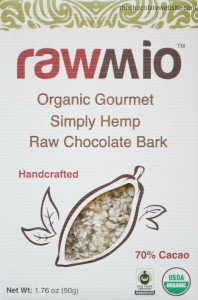 Organic Gourmet Simply Hemp Raw Chocolate Bark: It turns out this bar tasted exactly like it sounded; very healthy. While it was quite a novelty to taste chocolate with hemp, for the experience and the "bragging rights", it shouldn't be necessary to have to pinch my nose and drink plenty of water in order to get chocolate down. The taste was quite earthy and, well, "green" (for lack of a better term).  I wasn't the only one who didn't care for it.  We can always count on an unfiltered, honest opinion on food flavors from my dad.  His almost exact words were, "That chocolate really was not good AT ALL." Disclaimer: This was our first chocolate-with-hemp experience. Rawmio may very well have one of the best hemp chocolates out there, but it turns out we're not adventurous enough to try more hemp chocolates to find out.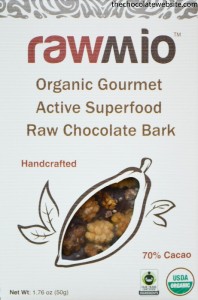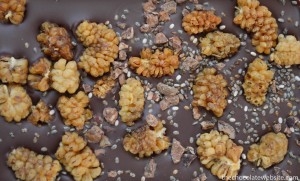 Organic Gourmet Active Superfood Raw Chocolate Bark: This bar was one of the prettiest of the set.  After reading the ingredient list, which included Chaga, Reishi, & Cordyceps mushrooms and raw chia seeds, we're relatively positive that the ingredient festooned across the front of the chocolate was raw sprouted red clover.  The taste was a combination of fruity and mushroom-y. Mushrooms are good on pizza. On chocolate, not so much.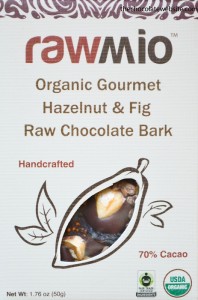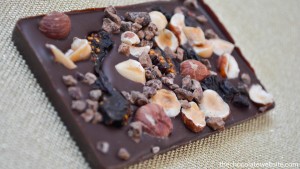 Organic Gourmet Hazelnut & Fig Raw Chocolate Bark: If I were ranking these chocolates based on how photogenic they were, this one would be at the top of the list. Studded with raw sprouted Italian hazelnuts and black mission figs, it was almost too pretty to eat. (Seriously, hasn't anyone come up with an industrial chocolate gloss so I can coat gorgeous-looking chocolates and display them permanently in my house as conversation pieces?!) For hazelnut and fig and dark chocolate lovers, this is your bar. I'm a no-nuts, no-figs in my chocolate type of person, so this wasn't exactly my first pick.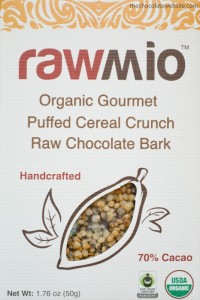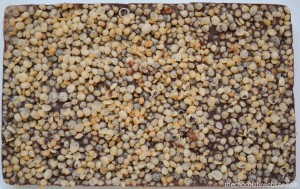 Organic Gourmet Puffed Cereal Crunch Raw Chocolate Bark: This bar was one of the simplest of the set, with only four ingredients: Raw Peruvian cacao nibs, coconut sugar, puffed quinoa, and raw cacao butter. Yet sometimes it is the simple things in life that are the most satisfying. The crunch of the little quinoa grains was a fun addition to the dark chocolate.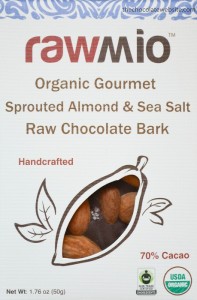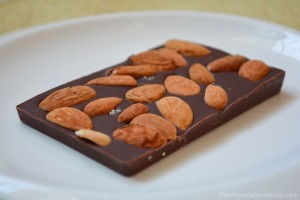 Organic Gourmet Sprouted Almond & Sea Salt Raw Chocolate Bark: Sea salt always adds a fun bit of contrast to chocolate, and almonds are a safe (read: not too radical) addition. This bar was a welcome mix of more "standard" flavors that helped balance out the other odd tastes and textures of the other bars.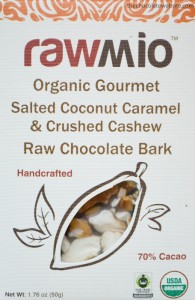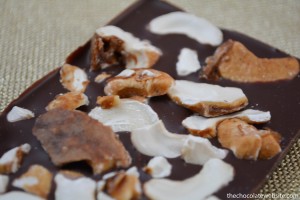 Organic Gourmet Salted Coconut Caramel & Crushed Cashew Raw Chocolate Bark: Mmmm. Sweetened nuts in dark chocolate. If one must have nuts in their chocolate, this is definitely the way to do it.
In conclusion: If you have an adventurous appetite and/or you are looking for artisan, raw, vegan chocolates with out-of-the-ordinary flavors, these are definitely the chocolates for you. However, if you usually don't deviate much past milk chocolate and think even nuts or seeds in chocolate sounds a little too exotic, then Rawmio probably isn't the right choice. (Mine was a six piece gift set, but these bars are also sold separately. You're not obligated to suffer through hemp before tasting the coconut caramel cashew!)
Ever tried Rawmio? I'd be interested in hearing what flavor(s) you tasted and what you thought.