Dear World,
Today, I am eager for you to meet Madecasse Chocolate.   (Perhaps you've already been introduced.  If so, you're already aware that Madecasse is a treat to be around.) But for those you meeting Madecasse (pronounced mah-DAY-cas) for the first time:
Shake hands.  I think you'll be really good friends.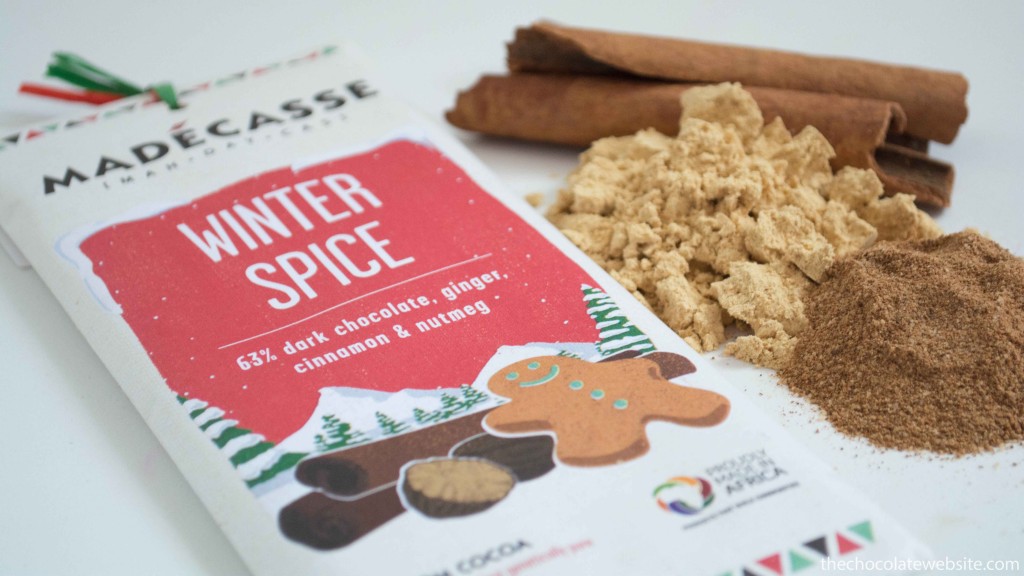 It was very special to me to try Madecasse chocolate.   Pictured above (and below) is Winter Spice, a 63% dark chocolate with cinnamon, ginger, and nutmeg.
As Madecasse puts it:
We were peace corps volunteers in Madagascar.  We fell in love with the country & people, and wanted to do more.  So we tried something UNHEARD OF.  We started making chocolate from scratch, in Madagascar, using some of the most flavorful cocoa in the world.  The result?  A BETTER BAR OF CHOCOLATE.  And 4x the impact of fair trade cocoa.
So what's inside that darling (and likely locally-sourced) thick paper wrapper?  I encountered another wrapper (plastic this time) keeping my chocolate bar all safe and in the right shape.  It gave way to this: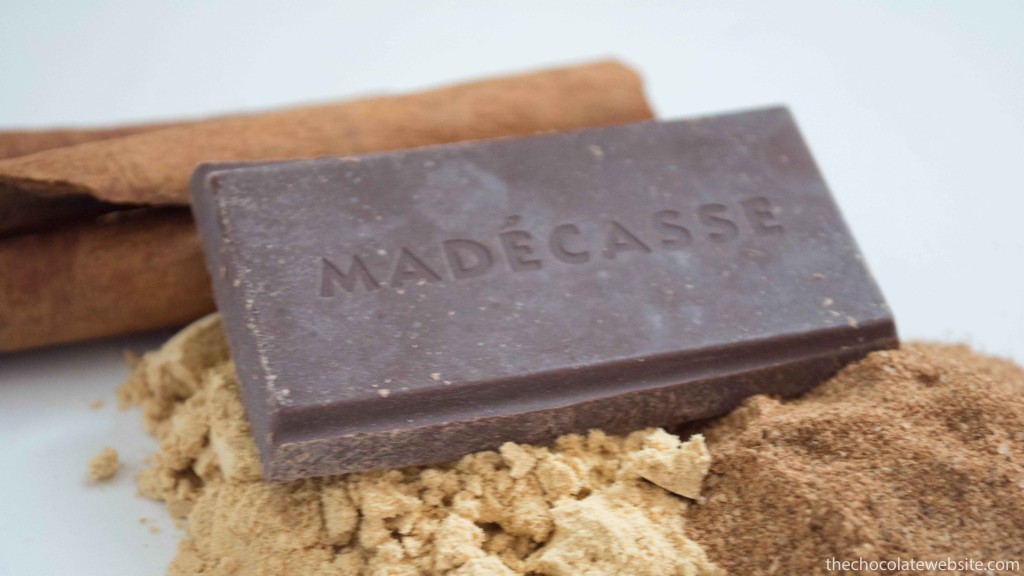 What you see here is an organic, fair trade, made-in-Madagascar* chocolate.
What you will taste is a robust blend of spices – cinnamon, ginger, and nutmeg – with a hint of vanilla (something Madagascar is also famous for).  The spices weren't overpowering, but they were were certainly not playing hide-and-seek with my tastebuds.   And that is a good thing.
This chocolate was – how do I describe it?  Numerous articles have informed me that "yummy" is too informal AND "too overused".   "Tasty" works, but everyone seems to be using that term to describe everything edible too.  How about: GOOD (in capitals on purpose).  A simple word, yes, but in this case it means yummy (who cares if it is overused), tasty (because it IS), and delicious, all rolled into one.
Sincerely,

Ps.  Madecasse offers all sorts of interesting flavors.  If you liked the Winter Spice photos, stay on the look-out for exclusive still-life snaps of the Madecasse toasted coconut bar, which are scheduled to debut on Instagram/Twitter sometime this month.
*Madecasse has recently started manufacturing some chocolate Stateside to keep up with the demand.  I have no way of knowing where my bar was manufactured, but 90% of the bars manufactured so far are made in Africa (Madagascar).