When visiting a new store, I usually make a beeline for the chocolate section.
It's not that I don't care about other foods.   I like other foods.  But they can be found at the grocery store, and I'm at the grocery store every week.   On the other hand, visiting new stores isn't an every week occurrence, especially one that might potentially have chocolates I haven't tried yet.
During one such trip to a new-to-me market, my initial scan of the store only turned up large bars of baking chocolate.  Upon further investigation, I hit the jackpot:  A shelf filled with a variety of chocolate bars and bonbons.  Immediately, my eyes rested on one particular bar.   I could almost hearing it saying, "Pick me! Pick me! I'm photogenic! Pick me!"  So I did.  Behold, Sanders Chocolatier Cafe Crunch, Closeup: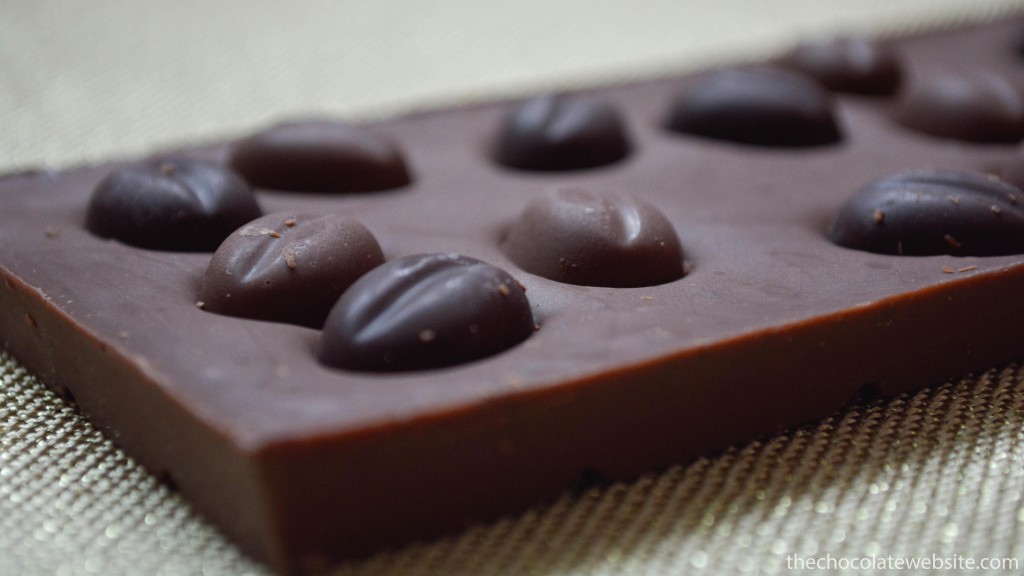 This chocolate wasn't lying about being photogenic!
Sander Chocolatier Cafe Crunch
Dark and milk chocolates, crafted to look like coffee beans, decorated this beautiful chocolate bar. Inside the bar were flecks of coffee beans.
The coffee flavor wasn't particularly strong, making this bar perfect for those who like both coffee and chocolate but, when the chips are down, they'd pick chocolate flavor over coffee flavor any day.
But wait, there's more…
Sander Chocolatier Pimienta Limon (Lemon Pepper)
Truth be told, I wasn't sure if I would like this chocolate.   Yes, it had lemon (lemon + chocolate = fantastic).  But it also had pepper.  Pepper goes on steamed vegetables and mashed potatoes.  I needed convincing that pepper belonged in chocolate.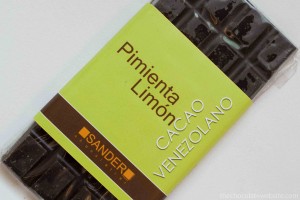 Consider me convinced.  Well, at least I'm convinced pepper belongs in chocolate as long as it is paired with lemon crystals.  This delicious bar is so incredibly flavorful that it made my list of favorite chocolates.  (It will hold this position for at least a couple of days.  My list of favorites keeps expanding and changing!)
It turns out that lemon pepper is rather photogenic, too: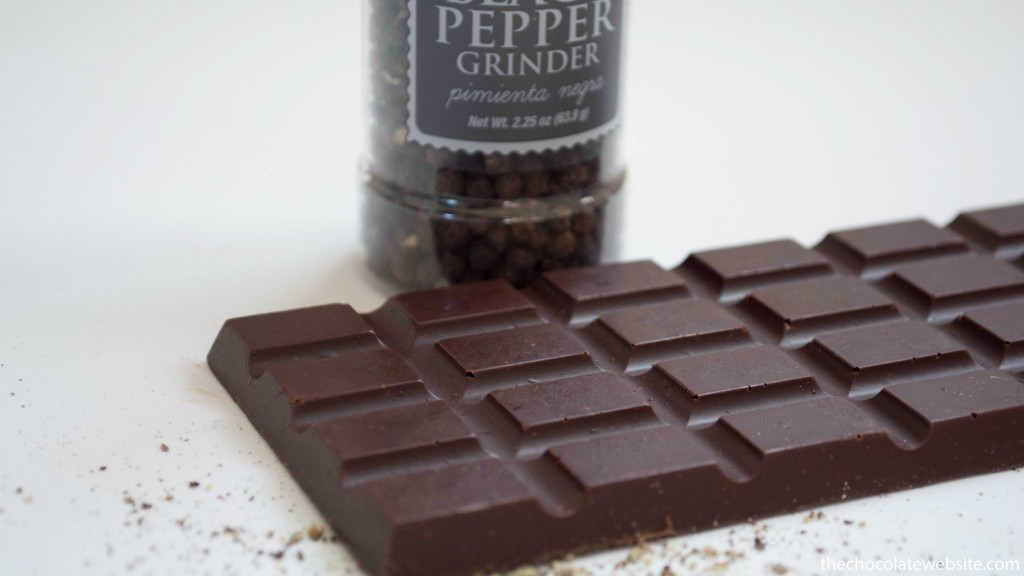 Online:
Website: Sander Chocolatier
Twitter: @sanderchoco