Whenever articles are written about the 5 or 10 or however-many best bean-to-bar/craft/artisan chocolates, I've noticed that Dandelion Chocolate in San Francisco always makes the cut. Photos of their bars encased in thick gold-embossed paper wrappers often show up in my Instagram/Twitter feeds, and, not long ago, Dandelion expanded and opened several locations in Japan.
It was high time to pick a Dandelion to see what the fuss was all about.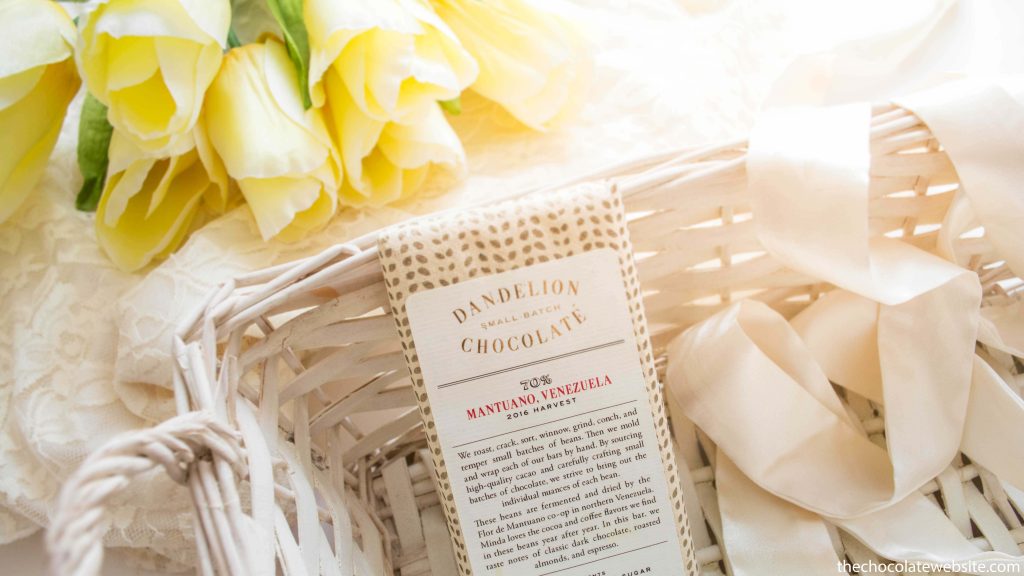 Dandelion's two-ingredient bars feature beans from different origins. I picked their Mantuano bar because the beans are grown in Venezuela, and I happen to be partial to Venezuelan beans.
Having a Dandelion bar in-house was exciting, but even the good press didn't guarantee it VP treatment.  In the end, it dutifully waited its turn just like all the other chocolate at my house until it got its moment in the sun. Correction: Half an hour in the sun (by the time I was done with it).  By then it was the *perfect* tasting consistency.
My first bite certainly didn't evoke any memories of chocolate consumed long ago during my childhood, because I don't recall ever eating fine dark chocolate until a few years ago.  (The normal chocolates of my youth was Hersheys, an occasional box of Russel Stover, and chocolate chips (dipped out from a 5lb bag from Sam's Club!). Instead, the taste on my tongue was a subtle twist on the "new normal"; what I call "grown up" chocolate, the knock-your-socks-off vibrancy of beans that have different flavor profiles instead of always tasting the same.
Found on the wrapper: "In this bar, we taste notes of classic dark chocolate, roasted almonds, and espresso." My untrained tongue did not pick up on any of the roasted almond notes, but there were most definitely hints of espresso.  (It is actually quite amazing how many dark chocolates have coffee notes, despite not containing any coffee.)
This is CHOCOLATE.  No flavorings, no emulsifiers.   All it takes to be an awesome chocolate is cocoa beans & sugar, carefully selected and ground and conched and tempered and packaged.
I understand the hype now.
Save
Save
Save
Save
Save
Save
Save
Save
Save