…but I am celebrating with CAKE.  <grin>   (Chocolate cake, OF COURSE.)
Call me a rebel, call me what you will,
say I'm old fashioned, say I'm over the hill…
(#oldiesmusiclover)
(Yes.  Apparently I am one of those people who mishear lyrics.  All of this time I thought that line from Old Time Rock 'n' Roll was "call me a rebel", until I just went & looked it up to make sure I was quoting it correctly.  I was not.  It is really supposed to be "call me a relic".  I left it as "rebel" because I've been singing that way for years, because it fit my purpose better, and because I'm not the only one who thought it was "rebel". 🙂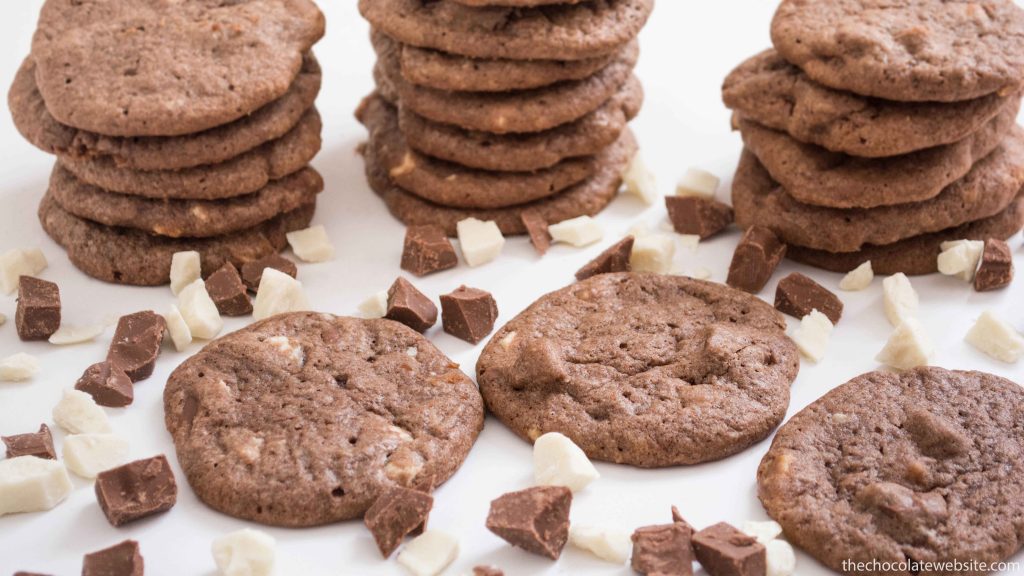 These cookies?  Triple Chocolate Cookies from Delectably Different Kitchen.  (They were GOOD.)  Don't miss the cute recipe video on Youtube!
Cookies and I go way, way back.  Chocolate chocolate chip cookies, cookies that (you might want to close your eyes during this part) don't actually contain chocolate (lemon cookies or raspberry jam thumbprint sugar cookies are two of my favorites), and of course, regular chocolate chip cookies.  (Strange fact: I don't make chocolate chip cookies. I EAT chocolate chip cookies, but gave up making them a long time ago.  This stems from the fact they always used to turn out crispy when they were supposed to be chewy.)
There's just something about cookies.  They're small enough to have several (unless you live in Seattle – I've heard tell of cookies the size of plates in Seattle), great for sharing, can by made in a myriad of flavors…
Someday if I ever have enough craft chocolate I'd like to make special chocolate chunk cookies.  Think: A sugar cookie base liberally studded with Ritual Novo Coffee or Taza Toffee, Almond, & Sea Salt, or any of dozens of other mouthwatering options.   Sounds amazing to me!
Are you celebrating (Inter)National Cookie Day properly (a.k.a. with actual cookies)?  If so, what kind?
Save
Save