An Open Letter to Ritter Sport
Dear Ritter Sport,
I will get straight to the point.
I've fallen in love with your chocolate.
Perhaps I shouldn't be.  (How many Cocoa Mousses is it safe for a girl to eat in a week, anyway?!)
Perhaps the feeling isn't mutual.  (What else would explain Coconut and Peppermint and Espresso – three flavors I long to try – not being available where I live?)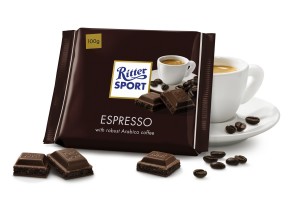 Photo Credit: Ritter Sport
Perhaps it is because of the size.   It's the perfect amount for a splurge night when I want my fill of chocolate.  (Yes.  I can easily eat a whole Ritter Sport in one sitting.  Stop looking at me like that.)
Perhaps it is because of the packaging.   Who can resist chocolate when it is packaged in such gorgeous hues?   Praline is a deep, stunning blue.  The aforementioned Peppermint is one of my favorite shades (a cross between teal and turquoise and aqua).  Pretty in pink:  Strawberry Cream.  There's more, but I think you get the idea.
Last but not least, perhaps – no, not perhaps – it is because of the taste.  Rich.  Creamy.  Flavorful.  If the bar has nuts, the chocolate is chock-full of them.  If the bar has cream, there's a nice thick layer instead of a barely-there taste.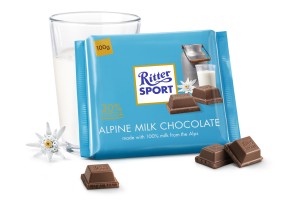 Photo Credit: Ritter Sport
Please don't change a thing (except for maybe offering more flavors in more locations).
Your chocolate is perfect just the way it is.
Signed,
An Admirer